CWops# 2291, from Cary , NC , USA.
---->
View on Google maps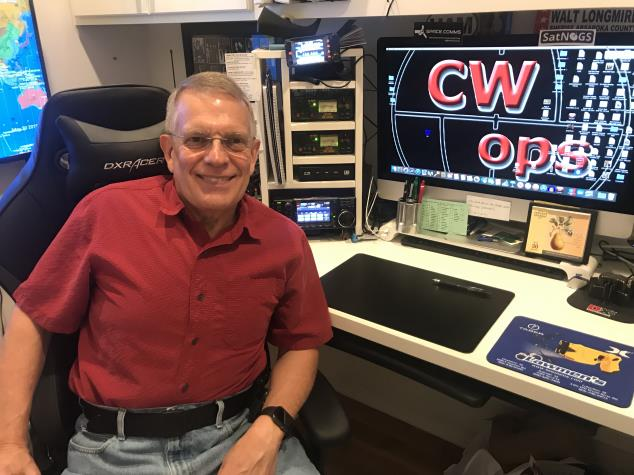 I am appreciative and humbled by membership into CWops. Thank you Michael Goltz N8DNA for your nomination and to my sponsors.
My radio story began with a pair of Midland Walkie Talkies (Channel 14) from Santa Claus the Christmas of 1965. From that point forward I was always interested in two-way communication and radios.
Throughout my life I have been blessed with the best of amateur radio mentoring. My high school radio club advisor Robert Foster exposed our members to SSB via our Swan 500C and prepared us for and administered the Novice exam. I received my Novice License WN4RAE in 1970 and explored the band allocation by way of a Hallicrafters SX140 and a Heathkit DX20 at 5 wpm.
Fast forward to 1982 and a ham radio neighbor Blair Hatcher AB4V rekindled my interest and I was on the air again with a General License N4EII. Blair was a National Traffic System Morse code high speed operator. He planted the need for speed idea, but it took a while to start the process.
After being QRT for 25 years, a friend and customer Dennis Keith NC4DK told me he was an Amateur Radio Operator and explained the process to again obtain a license. Dennis encouraged me to join the Raleigh Amateur Radio Society and I was on my way. My daughter Megan joined me for testing. She received her Technician KN4DRM and I was again a General KN4DRL until I received N4EII by way of the vanity call process and an upgrade to Extra last year.
RARS club member Carl Davis W8WZ CWops #1660 introduced me to the CW Academy. The fun and learning began.
CWA 1 advisor Phil Graticer W3HZZ
CWA 2 advisor Ron Norris. VE3FXX
CWA 3 advisor Jerry Weisskohl AC4BT
Thank you to my CWA advisors for your time, encouragement, and knowledge. Also, thanks to the CWops officers and the membership for a great organization.
Oh, about me, I am in my second year of retirement after a 41 year career of distributing Law Enforcement Equipment in the Carolinas.
Again, THANK YOU to all my mentors.
This biography is what appeared in Solid Copy when the member joined CWops.