CWOps Mini-Clubs and Callsigns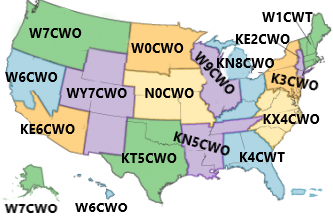 The CW Operators Club (CWops) has formed 15 mini-clubs that correspond to the ARRL Divisions. Each mini-club has obtained a club license and a vanity callsign with a suffix of CWO or CWT for use in special events, contests, or other operating activities. These mini-clubs also provide a focal point for CWops members within each ARRL Division.

A mini-club vanity callsign is available for use by a U.S. amateur who (1) has a current, valid FCC license and (2) is a CWops member in good standing. Permission to use a club vanity callsign may be requested by visiting the U.S. Vanity Callsign Website at http://cwomc.org . The request form will be sent to the manager for the call for review and response.
---
CWA day  Special Call signs use.
As most of you know, we have three special CWT Wednesdays in the year where we ask participants to take their foot off of the accelerator and slow down to 20 WPM. These CWA days are meant to welcome and congratulate the many students who have completed a recent CW Academy class. It is also designed to appeal to visitors who are more comfortable with a slower-speed session.
The next CWA day is Wednesday, November 14. Here in the U.S., we have 15 special call signs, all ending with CWO or CWT. We are hoping to get as many of these calls on the air on that Wednesday as we can to greet our recent CWA graudates. Hopefully, our friends in England, Scotland and Wales can put their CWO calls on the air as well.
We are looking for control operators who would be interested in using one of the special calls for one or more sessions. You can go to http://cwomc.org to see the call signs available and request the use of one. Setting up the U.S.-based calls and the scheduling system has been completed over the last several months and was used most recently for an Enigma special event. These U.S. call signs are available for any U.S.-based CWops member. For those across the pond, you'll have to ask the respective trustee.
Joe AA8TA
---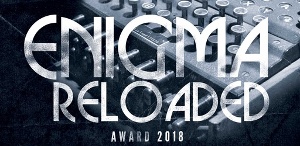 Enigma – Reloaded 2018  : CWops first participation as an activating club has been a resounding success.
Thank you to all who volunteered, especially to those who persevered during the slow periods of poor conditions.
Thank you to those who operated, to those who looked for and worked K3CWO, and to those who spotted us, posted our operation on the reflector and on FaceBook and other Websites!
73, Bill WØTG
To view the schedule of K3CWO click here