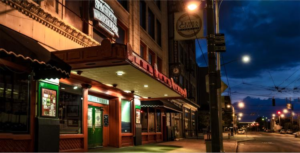 Dayton Dinner – May 19,  2022
Location: Spaghetti Warehouse, 36 W 5th St, Dayton, OH 45402. Starts at 5:00 pm local time!
Meal: 4 choices from a fixed price menu, payment of meal, beverages from bar, and tip are the responsibility of each person in attendance with a seating ticket
Requirements: You must reserve a seat! In advance! Payment is made for your ordered meal. This system has been used in every past year.
Number of seats: 100 maximum in main dining room. There is an overflow of 10-15, but not in the main dining room.
Bill Perkins, KC4D will be handling seating arrangements. There will be rows of tables. There will be a head table for those who will be speaking and making presentations.
•5:00 pm, KC4D-Begin seating of members and guests. Instructions on meal orders and payment (please use a credit card, not checks)
•5:45 pm, W1UU-Introductions of head table followed by table self-introductions of those present. Message from President Stew Rolfe, GW0ETF
•6:00 pm, K7NJ-CWops Premier Award : "Advancing the art of CW"
•6:10 pm, W1UU-Recognition of Gold, Silver, and Bronze CWT and QTX winners for 2021
•6:15 pm, CWA-Program progress and performance
•6:20 pm, CWops-Scholarship program details for an award in 2022
•6:30 pm-Door prizes (using your seating ticket) from a drawing
•6:45 pm–W1UU closing comments and adjournment.
More news to come..
Read also on Solid Copy  (page 16)